This photo was taken at the initial consultation with clients at their town home in Society Hill, Philadelphia.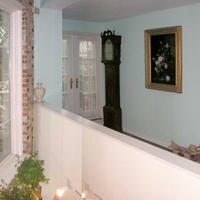 They visited my booth at the PFFS show in the spring, and admired my five panel folding screen, a classical scene of combining elements of the statue of the three graces ( version in the Louvre) and ancient columns in an idyllic setting.




After extensive interior renovation of their colonial
era home, they are interested in a mural to visually expand the narrow passage between their sitting room and back garden.





They want the balusters, urns and classical statue in their garden to be echoed in the mural. I am given a disc with dozens of photos of their trip to Tuscany, some of which we agree will be excellent references for the mural.





I have brought my laptop to the meeting to show them some photos of Renaissance Italian frescos.


detail of the Clemency of Scipio, by Antonia Fasolo and Gianbattista Zelotti

My task is to consider how to combine these concepts into a scene that includes the elements they request and that will work in the context of the space, so that it will be the focal point of interest when entering the sitting room.
see also
mural sources and sketches
mural painting in progress 1
mural painting in progress 2
mural completed
mural installation